Mars Hill Dental Team
Dr. Wendy Bamford, DMD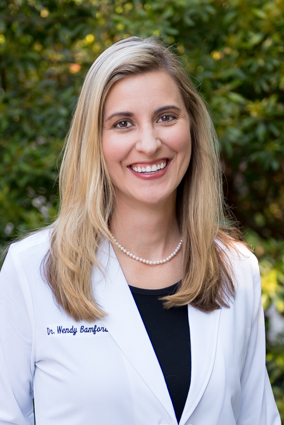 Dr. Wendy Bamford is a graduate of the Dental College of Georgia with a Doctorate of Dental Medicine degree where she received a Superior Award in Pediatrics. Prior to attending dental school, she was a school teacher for seven years and holds a master's degree in Special Education. After graduation, she worked with the Indian Health Services in Barrow, Alaska for years providing dental care to the native community. She loves sharing about her exciting adventures during her time there. However, she is very happy to be back home in Georgia!
Dr. Bamford is passionate about providing the highest quality of dental care while keeping her patients comfortable and relaxed. She is excited to continue the work of Dr. Frantz and his team because they share these goals. She continues to attend many continuing education courses to stay up to date on the latest dental treatments and options for patients and also maintains memberships with the American Dental Association, Georgia Dental Association, and Academy of General Dentists.
Dr. Bamford and her husband, Brad, have two wonderful children, Emilee (12) and Bennington (6). As a family they enjoy attending Athens Church, exploring nature, riding bikes, and cheering on the Dawgs!
Barbara Bear
Barbara is a dental hygienist with more than thirty years of experience. She graduated from Dekalb College in 1984 with an associate's degree. She joined our dental practice in February 1998 after moving to Greene County from Lawrenceville. She believes continuing education is essential to delivering quality care to the patients in our dental practice. Barbara enjoys attending dental classes and meetings and then applying what she has learned.
Barbara has been married to Jack for thirty two years. They have a daughter Courtney and a son Patrick but more importantly a granddaughter named Ellis Ann.
Eva Bowen
Eva is a dental hygienist with over twenty two years of experience. She received her dental hygiene degree from Lanier Technical College and joined our dental practice in 1999. She really enjoys the personal relationships she is able to build with our patients. Eva especially likes to help them with education about oral hygiene, nutrition and how oral health affects the overall health of the body.
Eva and her husband Bill were raised in Athens. They live in Watkinsville with their son Billy. They are active members at St. Joseph's Catholic Church.
Emily Parker
Emily joined our team in February of 2019 as patient care coordinator. She coordinates treatment and schedules appointments.
Emily and her husband Andrew live with their daughter M-Jae in Walton County. They love the outdoors and really enjoy hunting together.
Crystal Hett
Crystal has served as the office manager since June of 1997. She enjoys greeting people as they enter the office, presenting patients with their treatment plans, and helping them with their financial options. These roles aid our patients to achieve their optimal dental health.
Crystal is very proud to be the parent of Ashlyn. Ashlyn is a currently attending nursing school.
Brooke Sears
Brooke is the dental assistant to Dr. Frantz. She became part of the office staff in 2003 after graduating from Oconee County High School. Brooke has completed courses in expanded duties dental assisting. Her competency in performing assisting skills is a valuable asset to our dental practice. Brooke possesses an infectious laugh, a compassionate heart and an outgoing personality that helps you feel at ease.
In addition to her assisting capabilities, Brooke has a great passion for interior design. She hopes one day to redecorate an old farm house where she can live with her husband, Brandon, and their three children: Tori, Savannah, and Blayne.